M Global Support Coverage Locations
Is there service coverage in my area?
The short answer is — probably!
We can provide service in most locations across the United States and Canada, as well as in Mexico City and Guadalajara. SLA options may vary by location so contact us to quickly find the service options in your area.
See worldwide list.
Steve shares more details on service coverage options.
Learn more about the available service options at your location.
US, Canada & Mexico Coverage
We are able to provide service in most locations across the US:
Alabama, Alaska, Arizona, Arkansas, California, Colorado, Connecticut, Delaware, Florida, Georgia, Hawaii, Idaho, Illinois, Indiana, Iowa, Kansas, Kentucky, Louisiana, Maine, Maryland, Massachusetts, Michigan, Minnesota, Mississippi, Missouri, Montana, Nebraska, Nevada, New Hampshire, New Jersey, New Mexico, New York, North Carolina, North Dakota, Ohio, Oklahoma, Oregon, Pennsylvania, Rhode Island, South Carolina, South Dakota, Tennessee, Texas, Utah, Vermont, Virginia, Washington, West Virginia, Wisconsin, Wyoming
Major metro areas and some various other locations
Mexico City, Guadalajara and various other locations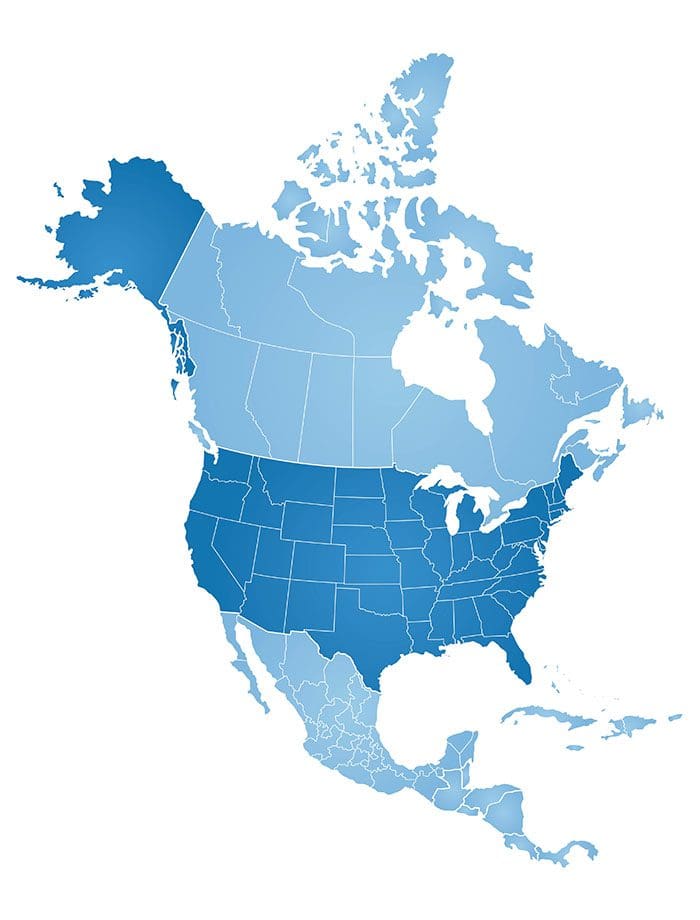 Most major metro areas across US and Canada will have access to all of our SLA options. Onsite support, local stocking, and onsite response times tied to SLAs are not a problem.
If your location is more remote, we can usually still offer support options. We review each situation on a case by case basis to go over what options are possible. Onsite support might be available, but there may be scheduling or turnaround constraints. It's important to us that we be transparent about timing and capabilities so we can set expectations according to what is possible to deliver. We usually are able to come up with a support solution with the necessary SLA requirements.
Worldwide M Global + Partner
Our commitment to excellent service extends everywhere we provide support. Unlike many providers that "hand-off" tickets when working with partners, at M Global, our helpdesk maintains control of all activities, managing our partners and validating their troubleshooting steps. We follow each service ticket through to its resolution ensuring our clients receive the high standard of service they come to expect. It's those little details that make the customer experience with M Global really stand out.
*Global locations are subject to change. Reach out to verify if support is available in your area.
Australia, New Zealand, Japan, South Korea, Thailand, Malaysia, Indonesia, Papua New Guinea, Philippines, China, Singapore, India, Taiwan, and Hong Kong
Europe: Ireland, UK, Norway, Sweden, Finland, Holland, Belgium, Germany, Poland, Czech Republic, Austria, Hungary, Switzerland, France, Italy, Spain, and Portugal
Middle East: Egypt, Turkey, Iraq, Saudi Arabia, Yemen, and Oman
Africa: Morocco, Algeria, Tunisia, Libya, Sudan, Senegal, Liberia, Nigeria, Kenya, Angola, Namibia, Botswana, South Africa, Zimbabwe, Mozambique, and Madagascar
Central America: El Salvador, Costa Rica, and Panama
South America: Venezuela, Peru, Brazil, Chile and Argentina
Caribbean: Select areas
We want you to consider us an extension of your team, a trusted resource and advisor. Call us today at 855-304-4600 to find out more.