Talk to us about hardware solutions.
We've Got Your Hardware Needs Covered
Whether you are looking for enterprise hardware such as servers, storage, or networking devices customized to your needs, replacement parts or upgrades, or even personal computing equipment like laptops and workstations, we can take care of it. Most of the time, we are able to ship within 7-10 business days, sometimes even sooner!
Servers, Storage & Networking Devices
Sourcing new hardware continues to be a challenge. Many OEMs are still having to push out lead times with delay after delay. The good news is that there are other options out there if your timeline can't wait. We can help you source servers from various OEMs (like the ever popular HPE Proliant), storage devices (like the recently EOSL 3PAR StoreServ 7000), and networking gear (such as the elusive but much needed SFPs).
Maybe you're looking for a performance boost, and want to upgrade memory, increase processor speed or storage capacity or add expansion shelves to your storage array. Whatever the case may be, we can help with that. And if you're wanting to replenish your spare parts store we can source parts for you like power supplies or fans.
Laptops, Desktops & Workstations
We can help with client solutions such as laptops, desktops, workstations and more as well! Dell Latitude and Precision lines have been particularly popular recently.
Why Buy Hardware From M Global?
Maybe your budget has taken a hit this last year and rather than the latest hardware refresh, you are trying to upgrade the memory, storage, or overall performance on your current gear. It's possible that used or refurbished devices have only recently come onto your radar and you may be wondering how viable they are. Or maybe you're familiar with the second hand market and are finding that parts sourcing has gotten more difficult recently and you've been burned by refurbished gear that wasn't properly configured and tested. When you buy equipment or parts from M Global, you can rest easy knowing that we've got you covered.
Like many industries right now, delivery constraints have caused delays and devices to be back-ordered for months at a time. M Global has a trusted supply chain in place that allows us to come up with creative solutions and get you the parts and equipment you need--NOW. Often times, we can deliver within days when the OEM is delayed or back ordered on equipment. And if you need a quick turn around, we can get quotes and orders processed in 24-48 hours.
Every part and device is fully tested and backed by M Global's Limited Hardware Replacement Warranty included at no extra cost. And if you want to ensure that your other equipment is covered, we can provide third party maintenance hardware support across multiple OEMs and create a customized support plan for you.
Sticking to tight budgets and finding ways to cut costs seems to be even more a part of the conversation for IT departments lately. Upgrading current devices by adding more storage or memory, or purchasing used and refurbished equipment is a simple and effective way to save money.
We've been tied into the hardware market over 30 years. We've seen an awful lot over the years and have established relationships and trusted supply chains with manufacturers allowing us to build unique and creative resolutions to our clients' IT dilemmas. And our solutions are backed by the expertise of M Global experts who have decades of experience. You won't find that on eBay!
M Global Limited Hardware Warranty
All equipment and parts that you buy from M Global come with our 1 year Limited Hardware Warranty. The Limited Hardware Warranty includes technical support Monday-Friday 9am-4pm and next business day parts replacement. It does not include onsite support.* In most cases, if your devices are currently under support with M Global, it would be included. Call us for more details.
*Enhanced support uplifts available upon request
We want you to consider us an extension of your team, a trusted resource and advisor. Call us today at 855-304-4600 to find out more.
Hardware Solutions Throughout the Lifecycle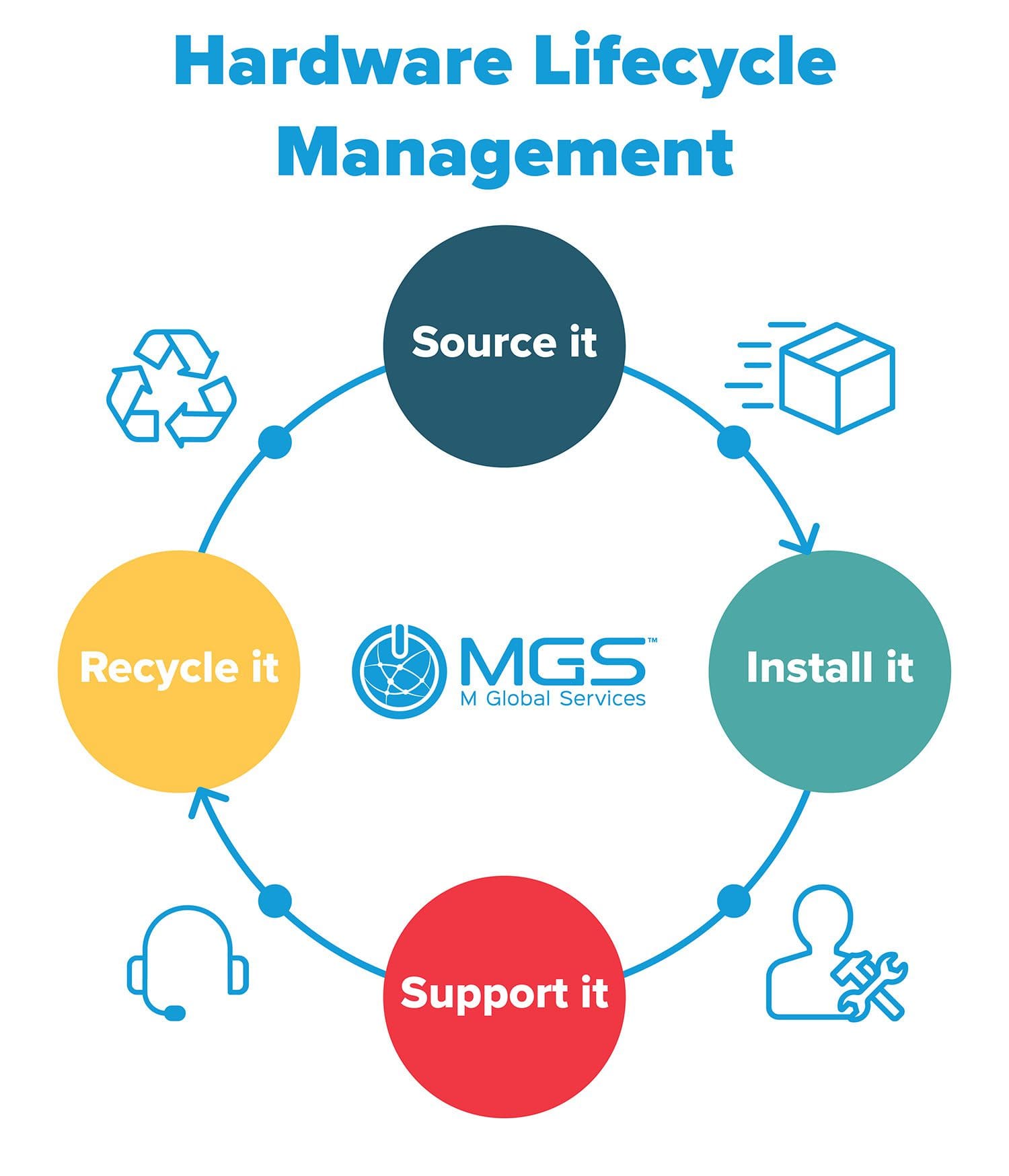 We can source it. M Global is able to provide our customers with parts from trusted sources and used, refurbished, and new devices across multiple OEMs. Hardware purchased from M Global is tested and backed by our Limited Hardware Warranty.

We can install it. If you need the part installed or your devices set up, M Global can take care of that too. Our Smart Hands Services brings field engineers to your location to take care of a host of IT tasks including parts replacement, rack and stack, and installation of devices.
We can support it. Not only do the devices and parts come with a Limited Hardware Warranty, but we can also provide hardware support for your other devices in your data center. We specialize in creating custom SLAs that will keep your data center covered.
We can recycle it. When it's time to retire old equipment, let us help you get top dollar for your hardware. Our ITAD services see the asset disposal process through from start-to-finish including asset buy back, data sanitation, and asset disposition. And we're picky about recycling—we only use recycling companies who use practices certified by BAN e-Stewards.
M Global Service Offerings
How We've Helped Our Clients
M Global provides TPM customer with the back-ordered Dell switches they need.
We were able to source the switches and get them to our customer right away! No waiting! One of our customers was trying to get some Dell switches that were back-ordered and wouldn't be available for four months! The customer was comfortable with a solution that included refurbished parts as long as he could get them immediately.
M Global becomes a trusted 3PAR source after an eBay purchase goes wrong.
We helped our customer resolve issues that came out of a bad 3PAR device purchase on eBay and became a trusted source for all things 3PAR in the process. A customer purchased a 3PAR device on eBay and ended up having licensing issues with serial numbers which meant the device wouldn't work. They reached out to us and we helped them through the issue. The next time they needed drives and memory for their 3PAR devices, they came to us. Eventually, they needed some more 3PAR devices and purchased from us this time around knowing that we would take care of them. The device was preconfigured and we helped with the install, testing everything to make sure it works. Now we are their resource for all things 3PAR and beyond.
M Global provides technical expertise through the purchase and installation of shelves.
We ensured that the expansion shelves we sourced and installed for our clients worked the way they should with their Data Domain devices. We checked capacity licenses and ensured that the shelves would be recognizable from the controller. Increasing the storage in their devices was easy and smooth. That technical layer of expertise is critical when adding in additional hardware or devices to an environment—buying random parts off the internet can definitely backfire when compatibility is a possible concern.
M Global builds trust with honest and responsive approach to hardware sales.
We built a strong relationship with a client by providing quick responses and honest solutions. We can't guarantee that we'll always answer immediately if you email us after hours, but we always do our best to get back to people right away. When our customer emailed us after 6 o'clock one night, we got back to him that same evening and began working on a solution right away.
Another time, that same client asked us to source a part that they could have purchased directly from the distribution source. We gave them the information they needed to purchase the part direct, saving them time and money. If the best solution for our customer is to buy from somewhere else, we'll be straight about it.