3PAR StoreServ 7000 EOSL Announcement
Are You Ready for Your 3PAR StoreServ 7000 Hardware to Go EOSL?
Have you heard the news? The popular 3PAR StoreServ 7000 line is going EOSL in October of 2022! That means you'll no longer be able to get hardware support from HPE. No worries, though! We've created a 3PAR 7000 EOSL prep guide to help you navigate your options and a task checklist to aid you in your efforts.
EOSL (End of Service Life) means that you can no longer receive hardware support through the manufacturer - in this case, HPE. Hardware maintenance through a third party maintenance provider is a popular solution for devices that have gone EOSL.
EOL (End of Life) means that the device is no longer available for purchase new through the manufacturer. Usually, hardware support will still be available through the OEM for a few years after the EOL date. Hardware that is longer available through the manufacturer can often still be purchased on the secondary market.
3PAR Storserv 7000 EOSL in October 2022
The 3PAR StoreServ 7000 series is one of 3PAR's most popular lines, probably because it excels at industry-wide features such as replication and compression. Though the StoreServ 7000 has been especially popular with small to midsize businesses, the versatility and scalability make it a fit for some larger environments, too.
Due to its unique architecture (yay, chunklets!), 3PAR hardware has something of cult following. Maybe you're one of the initiated and are sobbing that the 7000 is going EOSL. Never fear—you can keep your precious hardware! You'll just need to find alternate forms of support. HPE support is longer available, but that doesn't mean that you can't keep your device running smoothly. TPM providers, like M Global, provide hardware support for EOSL devices like the 3PAR StoreServ 7000 series.
HPE 3PAR StoreServ 7000 EOSL Date - Oct 2022
Includes models:
3PAR StoreServ 7200
3PAR StoreServ 7400
3PAR StoreServ 7440
3PAR StoreServ 7450
3PAR StoreServ 7200c
3PAR StoreServ 7400c
3PAR StoreServ 7440c
3PAR StoreServ 7450c
What about the 3PAR StoreServ 8000?
The 3PAR StoreServ 8000 line was meant to be an answer to 3PAR 7000 fans that wanted to stay in the family and keep HPE support. But the 3PAR StoreServ 8000 line already went EOL in August of 2021, so it's no longer available for purchase through HPE. If you did make the upgrade, you'll have another few years of support before you need to find another solution. Want to find EOSL dates for other 3PAR models?
HPE 3PAR StoreServ 8000 EOL Date - August 2021

HPE 3PAR StoreServ 8000 EOSL Date - 2026

Where is 3PAR StoreServ 7000 in the Hardware Support Cycle?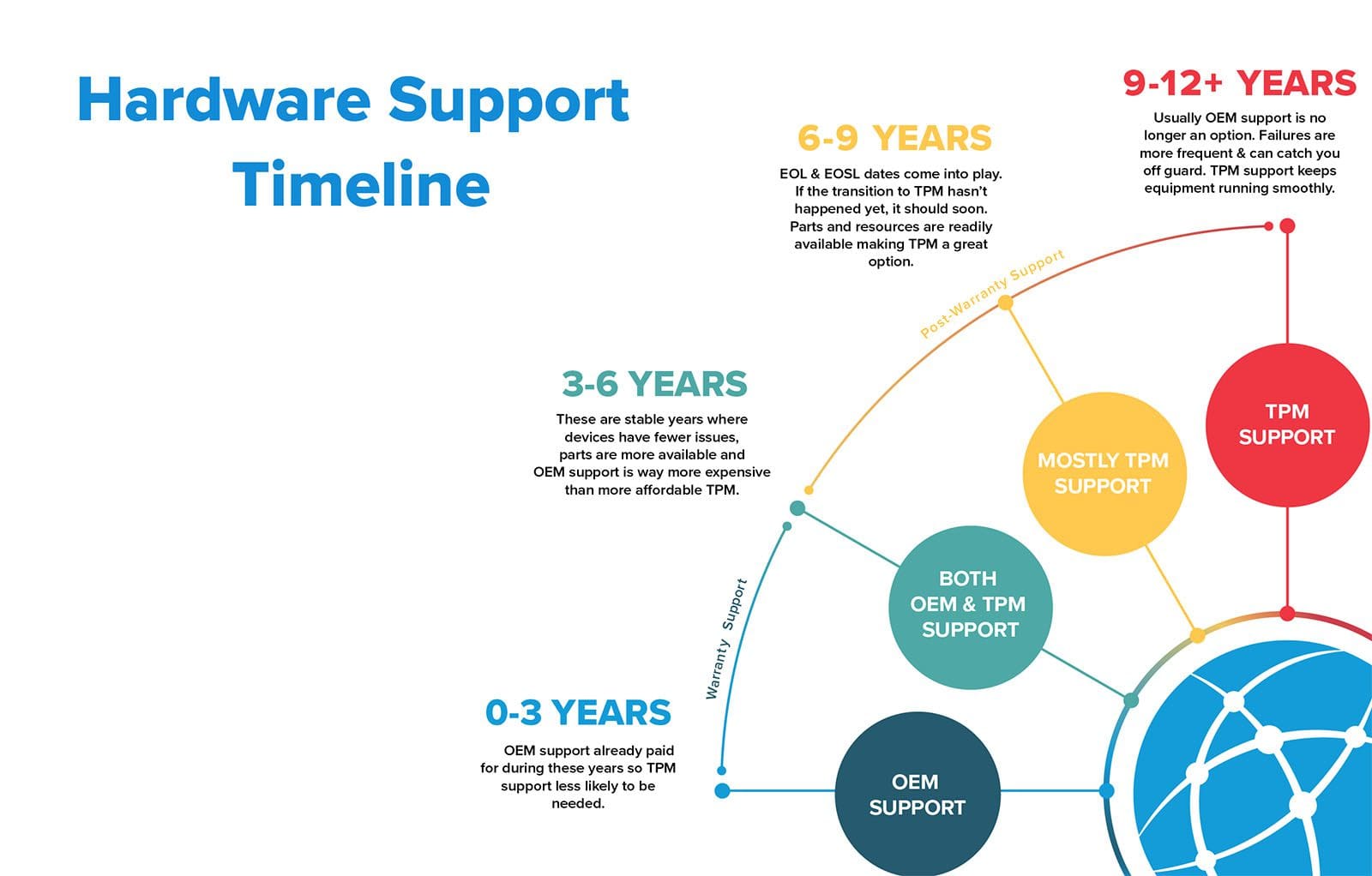 The 3PAR StoreServ 7000 series is firmly in the yellow phase now, where third party maintenance will soon be the only option available for hardware support. The great news is that parts and refurbished devices are generally readily available and many systems at this stage have plenty of life left in them. So if you aren't ready to upgrade yet, no problem!
3PAR EOSL Prep Guide — What are my options?
Keep My 3PAR StoreServ 7000 or Upgrade?
There are a ton of reasons why you might want to keep your current 3PAR Storeserv hardware. Budget restraints could be a factor as they have had a hand in postponing many hardware refreshes recently. Maybe you are a big fan of 3PAR's unique features and don't want to give that up, or perhaps you simply don't have time to deal with the headache of switching to a brand new system and the potential compatibility issues that could arise.
HPE support has a bit of a reputation for being frustrating for 3PAR admins because they are notoriously slow and coordinating timing can be an issue. Because 3PAR hardware needs to be prepared prior to work being done on it, if scheduling gets wonky, the admin could get stuck with phantom failures and extra work. What a pain!
It might sound a little obvious coming from us, but getting a hardware support contract for your 3PAR EOSL devices is a no-brainer. If you've not experienced service through a TPM provider before, I bet you'll be surprised at what's possible. When you have hardware support through M Global, you'll save money, have a more flexible contract, and the quality of service is significantly better. We are problem-solving, solution-finding experts that have your back. We know 3PAR equipment and we won't leave you hanging. We get that drives, nodes and power supply failures top the list of situations you might be dealing with. We even made a 3PAR diagnostic troubleshooting guide to help.
Something else to keep in mind - because a lot of companies will be going forward with a hardware refresh and decommissioning their devices, plenty of parts and refurbished 3PAR 7000 hardware are going to be available, ready for those who have decided to keep their equipment running for a few more years.
Purchasing new equipment might be the right choice for you. Maybe your company has policies in place that call for automatic refreshes or require OEM support. Or maybe having the latest technology is an important factor, and you have the budget to support it. Either way, you'll have a few options to consider if you decide to upgrade.
If you are HPE brand loyal, you'll probably be considering HPE Primera or Nimble. Die-hard chunklet nerds will probably be disappointed not to find chunklet architecture in Primera or Nimble. Because of the family connection, there is a bit of 3PAR "heritage" in the new Primera line, but it is not compatible with 3PAR devices (as in you can't run the OS from one system on the other). You'll need to complete the usual compatibility matrix checks with your other equipment. Both Nimble and Primera have similar features, but Primera is a faster system doing more in the same amount of space. But expect to pay for that additional performance as it costs significantly more.
If you are thinking that now is a good time to consider switching OEMs, you might also be looking at Dell or NetApp for alternative storage solutions. Regardless of which OEM you decide go with, when it's time to decommission your current 3PAR assets, give us a call! We provide ITAD services that can help you get the most out of your equipment.
Prepare Hardware for Post-Warranty Support
You've decided to keep your 3PAR StoreServ 7000 hardware. Now it's time to get ready for that looming EOSL date. There are few things you can do to make the transition to post-warranty support much easier.
Work with the OEM to resolve outstanding hardware failures.
Now is the time to take care of all those nagging little things you've been putting off. Troubleshoot any lingering issues and button everything up while your warranty is still valid. Even if you don't have any known failures, making sure your devices are running smoothly before your warranty ends can save you time and money as you search for post-warranty support. TPM providers want to onboard healthy machines and will be looking for preexisting conditions.
While you still have contact with your OEM, it may make sense for you to purchase spare parts through them. This is especially true if you haven't purchased hardware parts on the secondary market before. Most providers of post warranty support can help you with this step as well.
Check to make sure you have all the software and firmware for administrative use
If you aren't able to make the necessary updates before your device's warranty expires, making sure you have the required files will mean you are properly prepared and can perform those as needed.
Document any custom features to share with support vendors.
If you have any specific customizations related to your specific infrastructure such as a network card or storage interface card, it's a good idea to make note of them. This allows you to purchase spares if you need and helps you get proper support. TPM providers will need to know about these customizations to provide correct and efficient support (assign the correct engineer, source the part, etc).
Get Hardware Support with M Global Services
Last but not least - don't forget to start reaching out to TPM vendors before your contract expires. This can save the headache of a potential service gap and allow you plenty of time to get things rolling with your vendor.
Call M Global for a EOSL Prep Consultation

If you'd like to find out more ways to be prepared for your upcoming EOSL date or have more questions, give us a call or fill out a form! We can walk through our EOSL Prep Consultation to help you come up with plan.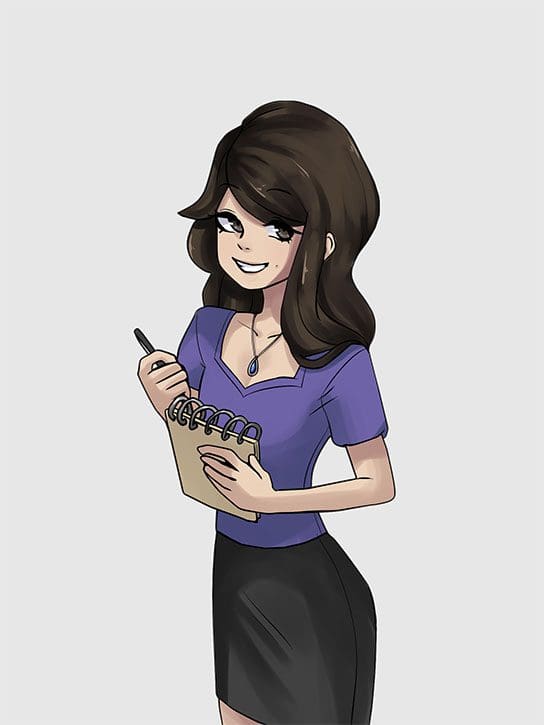 Author Note:
Written by Angie Stephens with contributions from M Global team members including SMEs, management executives, and more.
We want you to consider us an extension of your team, a trusted resource and advisor. Call us today at 855-304-4600 to find out more.