How To Check Your Maintenance Warranty For Dell Hardware
Need To Check Your Dell Warranty?
Dell Warranty Lookup Link
Checking on your Dell warranty is super easy — no account necessary. All you need is your Dell service tag or the Dell EMC product ID. Find your Dell service tag on a sticker at the back of the machine or pull out the information tag, usually accessed from the front. Here's the link for the Dell warranty lookup site.
Once you've looked up the status of your Dell warranty, come back and check out your options for a post-warranty hardware maintenance plan. We can help make the transition seamless. If you want a sneak peek at what you'll see when looking up your Dell warranty status, see our in-depth Dell Warranty Check Steps.
Dell Equipment Out of Warranty? No Problem.
You don't have to renew that expensive Dell contract to keep hardware maintenance services on your devices. TPM providers like M Global offer post-warranty support and can even provide maintenance on equipment that has gone EOSL.
What About My Dell Device's EOSL Date?
Though checking in on your Dell warranty is pretty simple, finding the EOSL date of your device can be a bit more complicated. Dell products have varying policies on the time frame for devices to go EOSL. Often times, they don't advertise this information to the public and it can be challenging to find.
Need help finding Dell EOSL dates? Contact us for help.
Talk to us about third party maintenance.
Steps for Checking Your Dell Warranty
When you land on the Dell warranty check site, you'll see a prompt where you can enter your service tag or serial number.
Once you've entered the Dell Service Tag, serial number, or Dell EMC product ID, you'll be able to access various information about your device, including warranty expiration dates, the original system configuration, and more.
If Your Warranty Is Still Active, It Will Look Something Like This: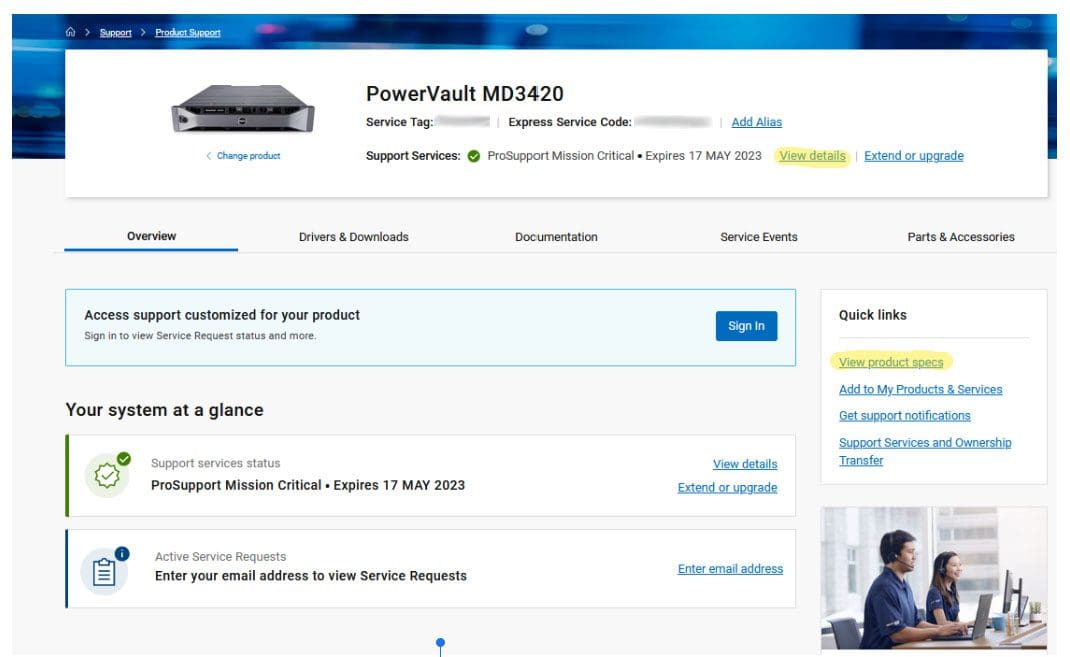 The above image shows the Support Services Status with its expiration date. It also includes links to click to view details and option to extend or upgrade. From here you can also view service requests by entering your email address.
By Clicking "View details," You'll Be Able To See More Information About Your Warranty.
It could look something like the image below which shows your term contracts with start and expiration date, as well as when the device was shipped to you, service tag numbers and other details.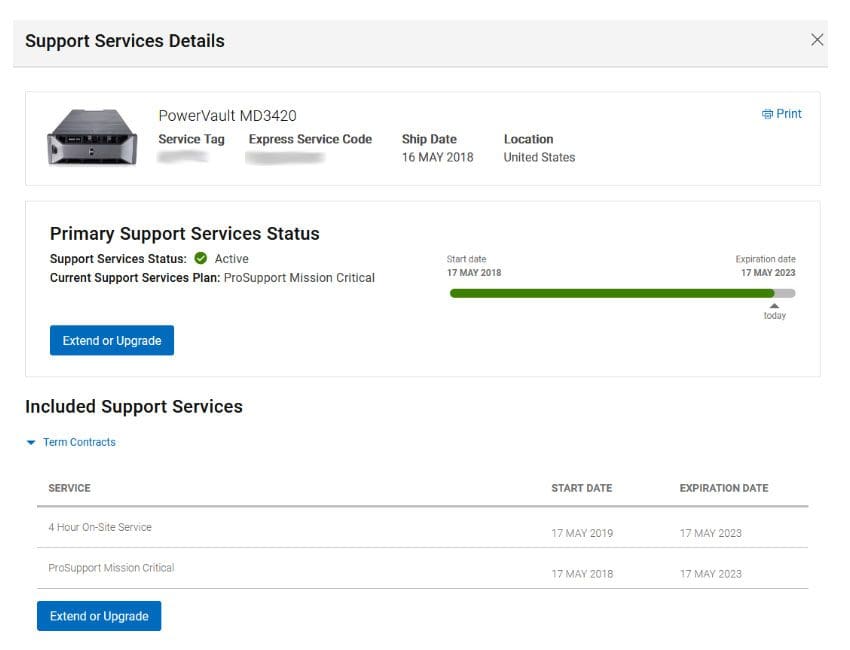 If Your Device Is Out of Warranty, It Could Look More Like This: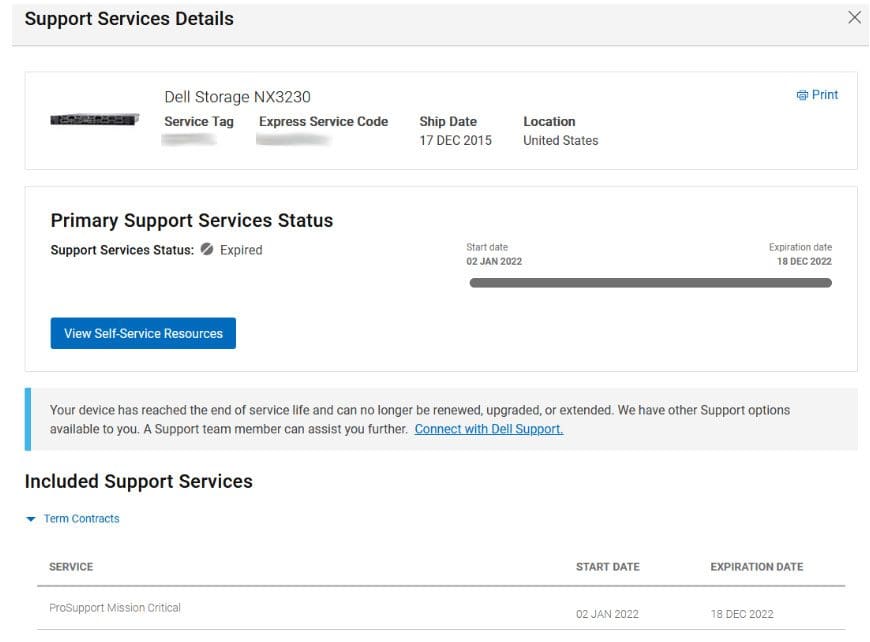 The above image indicates the device's support contract has expired and service can "no longer be renewed, upgraded or extended" with the manufacturer.
If Your Warranty Looks Something Like this Last One, No Need to Worry, Give Us a Call!
Learn More about Third Party Maintenance
If you want to see even more benefits that TPMs such as M Global provide, check out OEM vs TPM in our knowledge center.
With maintenance contracts up to 70 percent lower and a commitment to customer service that OEMs simply can't match, it's no wonder that more and more businesses are switching over to third-party maintenance providers. M Global has the technical knowledge and know-how of top manufacturers, but also share transparency with their customers to always keep them in the loop. With us, you'll know exactly what you're getting when you sign a maintenance contract. No more surprises, no more struggling to find important information vital to your business. Data center solutions should be easy and worry-free, so find out for yourself what that's like with an experienced third party maintenance provider.
Have more questions? Feel free to contact us concerning any of your maintenance needs, we're more than happy to help.
See What M Global Has To Offer
If you're looking for a maintenance option that keeps you in the know on important information, you might want to try looking into a third party maintenance provider. Third party maintenance providers, or TPMs, center around putting the clients' needs as the top priority. A TPM provider like M Global Services is always out to prove that the service we provide is better than what you would receive through the manufacturer. Not only is M Global customer-focused, but we have a number of other big advantages over OEMs like:
Flexible SLAs
Up to 70% contract savings
Dedicated inventory for each client
Consolidated contracts across multiple manufacturers
Simplified escalation process
Taking You Through The Steps Of Checking On Your Dell Warranty
Talk To Us About Support Options
We want you to consider us an extension of your team, a trusted resource and advisor. Call us today at 855-304-4600 to find out more.