How to Check Your Maintenance Warranty for HPE Hardware
Need To Check Your HPE Warranty?
How to look up your HPE hardware warranty
Doing a warranty check on HPE devices is pretty straightforward. You'll need an HPE account and your device's serial number to get started. Here's the link for the HPE warranty lookup.
Once you've had a chance to check up on your HPE warranty status, talk to us about post-warranty support options — even if your warranty is still active right now, it's never too early to explore the possibilities. Want a sneak peek at what you'll see when checking your HPE warranty? Take a look at our step-by-step instructions on how to check your HPE warranty.
Is your HPE equipment out of warranty?
No worries. You don't have to bother with renewing that expensive HPE contract or worrying over EOSL devices. TPM providers like M Global offer post warranty support and can even provide maintenance on equipment that has gone EOSL.
What about the EOSL date on my HPE device?
Though finding out the status of your device's warranty isn't necessarily difficult, finding things like the EOSL and EOL dates for your HPE hardware can be a pain. If you're having trouble finding EOSL or EOL dates for your HPE hardware, contact us for help.
Talk to us about third party maintenance.
First things first. Log in to your HPE account.
If you don't already have an account, you can create one.
(Below are images of forms on the HPE website.)
Next up — you'll need the device serial number. Enter it and click submit.

Clicking "Next" gives you more details.

Here's what it looks like when your warranty status is still "Active."
You'll also be able to see the support level and the start and ending dates of your warranty from this screen.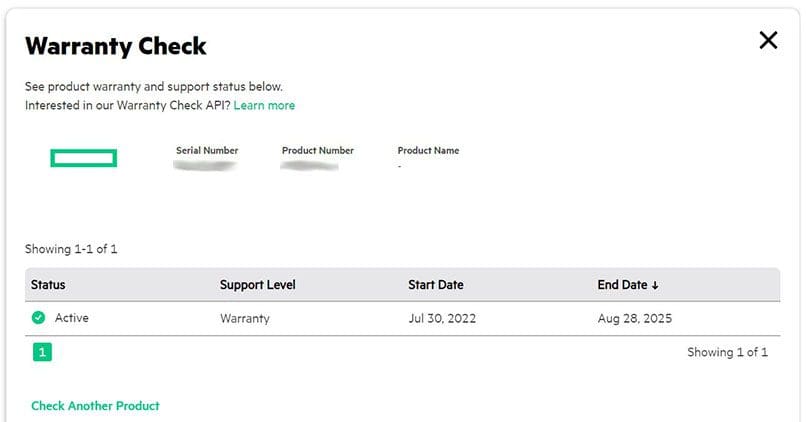 If your device is out of warranty, it could look like this.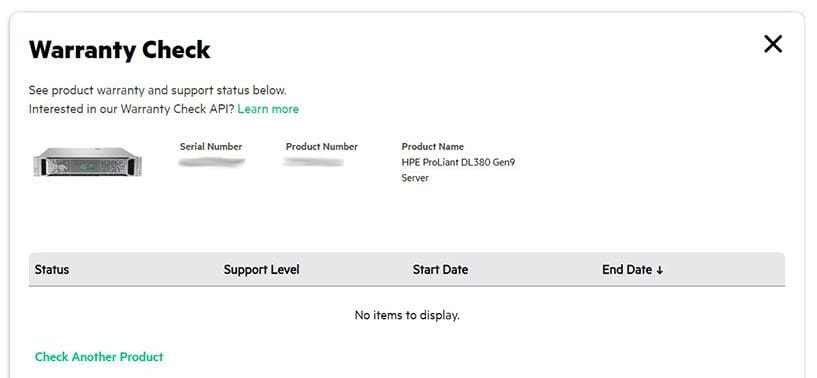 If your warranty check up ends with the discovery that your device is no longer covered, no worries.
It doesn't matter if your device has gone EOSL and maintenance from HPE is no longer possible, or you just don't feel like paying those high prices for a contract renewal — either way, we're here to help. TPM providers, like M Global can provide third party hardware support for your HPE gear.
Learn More about Third Party Maintenance
To see even more benefits that TPMs such as M Global provide that OEMs don't, check out OEM vs TPM in our knowledge center.
With up to 70 percent savings on maintenance contracts and a focus on customer service that OEMs simply can't replicate, many businesses are making the switch to third-party maintenance providers. At M Global, we have the knowledge and experience to provide great support and a commitment to communication. Great customer service means that it is vital that customers know exactly what they are getting before they sign the contract. No more unanswered questions! We talk in more detail about this topic here. Hardware maintenance and support should be simple and stress-free, and you can find out what that's like with a trusted third party maintenance provider.
Have more questions? Feel free to contact us concerning any of your maintenance needs, we're happy to help.
Looking for another maintenance option?
It doesn't have to be so difficult. If you want open communication and easy access to all your equipment's important dates, a third party maintenance provider might be the best option for you. Third party maintenance providers, or TPMs, prioritize the needs of their clients before everything else. M Global Services is a TPM provider that values transparency and prides itself on a commitment to customer service that far surpasses that of OEMs. At M Global, not only are we customer-focused, but we have many other advantages over OEMs such as:
Flexible SLAs
Up to 70% contract savings
Dedicated inventory for each client
Consolidated contracts across multiple manufacturers
Simplified escalation process
Talk To Us About Support Options
We want you to consider us an extension of your team, a trusted resource and advisor. Call us today at 855-304-4600 to find out more.