What to do When Your Hardware Nears EOL & EOSL
The lifecycle of hardware includes the inevitable end of life (EOL) and end of service life (EOSL) stages. But when an OEM makes that EOL or EOSL announcement, it can throw a wrench in your data center operations. It may not be possible or beneficial for your data center to refresh with new equipment quite yet, but making sure that your equipment is covered sometimes requires pivoting to a new plan. That's where third party maintenance can help.
End of Life (EOL) vs. End of Service Life (EOSL)
What's the difference between end of life (EOL) and end of support life (EOSL)? These terms can be confusing and it doesn't help that people often use them interchangeably. Though EOL and EOSL have similar definitions and are a signal that the device is nearing the end of its connection with the manufacturer, they actually refer to distinct stages in the OEM hardware timeline.
If your product is at its EOL, it has reached the end of its manufacturing lifespan and will no longer be produced, sold or advertised by the manufacturer. Sometimes this stage is also called EOS (End of Sale).
It can now peacefully pass into discontinued hardware heaven where it will enjoy its days playing with the Atari 2600 and iPod Shuffle. EOL dates are heavy hints from the manufacturers that it's time to upgrade to new equipment. However, those of you still playing Space Invaders on your Atari know that just because a device reaches its End of Life doesn't mean that it can't be used anymore.
A good portion of the time, EOL devices still work great and hardware refreshes aren't always possible on the OEM's timelines. Hardware support for EOL devices through the OEM is usually still possible, but it's pretty expensive and support is often only available for a handful of years after the EOL date (usually no more than 5 or 6 years). That's where EOSL dates come in.
When your device has reached its EOSL or end of service life that means the original manufacturer will no longer offer technical support, maintenance, or software updates for your product. Like we mentioned, this usually happens a few years after the device has gone EOL. Sometimes people also use the terms "end of support" or "end of support life" when referring to this stage.
If you haven't already, you can easily start a support contract with a third party maintenance provider (most often for a lot cheaper too) and carry on with business as usual. Just like EOL, your devices can function long after their EOSL dates with the support and maintenance of a TPM provider. There's no need to throw anything out just because the OEM said so; your equipment may still be valuable and have a long life ahead of it.
Sometimes it can be a challenge to find EOL and EOSL dates. Every manufacturer approaches this process a little differently. Some OEMs make it easy to find these dates while others (cough, cough Dell & HP) are notorious for how challenging it can be to find accurate EOL and EOSL dates. To make matters more complicated, these EOL and EOSL dates can change at the OEM's discretion. It's no surprise that you may come across conflicting or incorrect dates. If you are unsure about EOL or EOSL dates on your devices, feel free to give us a call and we can hunt down and verify any dates and devices in question.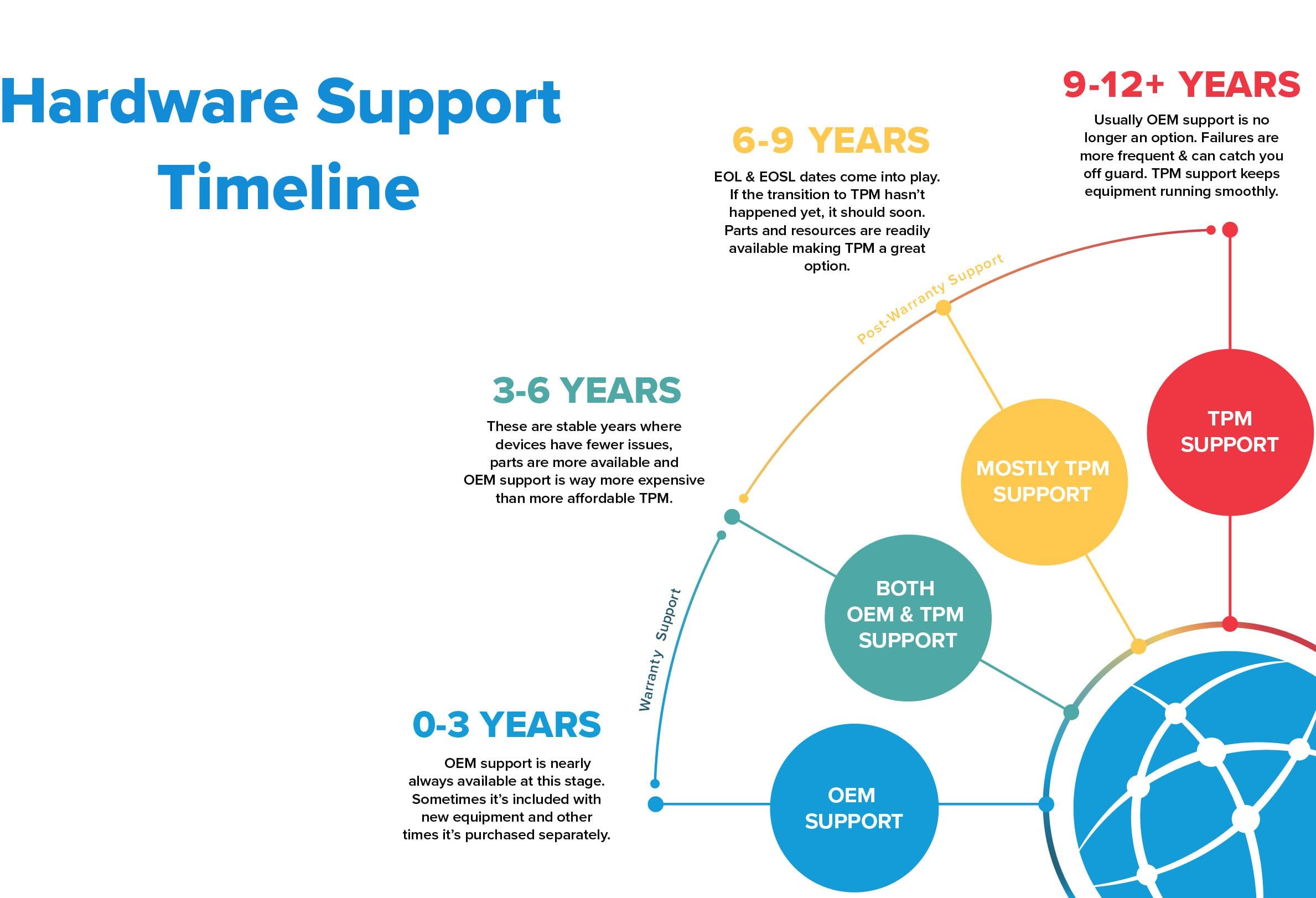 The Hardware & Software Lifecycle
OEM hardware support is usually available at this stage in the hardware life cycle. OEM maintenance contracts are sometimes included with the purchase of new devices, or they can be bought separately. If new technology is unveiled in a product line, many people feel most comfortable sticking with OEM support because it can be a little more difficult for TPM providers to source parts and provide the level of tech support that might be needed. However, new devices with similar technology to previous generations are candidates for TPM support.
3-6 Years - Both OEM & TPM Support
This stage is often thought of as the "stable years." The technology of these devices has become more widely known, and parts are generally available. There's a good chance your device hasn't had a ton of problems, and OEM support costs are more than the cost to fix devices. Answering the question, "Are we getting the value out of our expensive OEM contract?" can help you figure out whether third party maintenance support would be a good alternative to OEM support.
6-9 Years - Mostly TPM Support
OEMs are usually starting to release end-of-service life announcements, so EOSL and EOL dates come into play at this stage in the hardware life cycle. A support contract with a TPM provider can provide another option if a hardware refresh isn't in the cards. Parts are generally pretty easy to source on the secondary market, and the technology has been around for a while, making it easy for TPM providers to support. Sometimes you can still get OEM hardware support in this time period, but you will be paying a hefty price tag.
9-12+ Years - TPM Support
Failures are probably happening more frequently, and you might be caught off guard by unexpected downtime. More than likely, at this point, OEM support isn't even an option. Third party maintenance is a great option, and usually, TPM providers can support these older devices with no issues. Parts availability can be one of the challenges to overcome since it can sometimes be more difficult to source parts for devices of that age. Your SLA can be affected if the parts stocking strategy isn't nailed down, so make sure you talk to your TPM provider about it.
Options for EOL & EOSL Equipment
You've got a few options when your equipment goes EOL or EOSL.
Fall in line with OEM timelines and upgrade your equipment to the newest version. Though this is often the most expensive choice, it might be a good option if you have room in your budget or need features only available in the upgraded version.
Keep your current devices and get hardware support with a third party maintenance provider. Third party server support provides a great balance of more affordable support and helps you avoid the headache and potential downtime of trying to maintain the equipment yourself.
Maintain your data center devices yourself. This can be an option for those that have the resources, technical expertise and don't mind managing potential downtime. While usually pretty cost effective on the front end, this option requires troubleshooting repair skills as well as finding necessary replacement parts. Weighing the risks of potential downtime and whether your device is part of a critical environment can help you decide whether this is a good option for you.
If you intend to keep your EOL or EOSL devices and want to add in additional devices to your environment, we can help you source and purchase refurbished devices no longer available through the manufacturer. We even provide a one-year warranty at no additional cost. Our can-do attitude and out of the box solutions for our clients are part of what drives us.
Extend the life of your equipment
Neglecting your device's EOL and EOSL dates can lead to a situation where you might not have coverage when you need it. This can lead to poor performance, security vulnerabilities, software incompatibilities, and high operating costs. Paying attention to these dates and creating a plan for your EOSL and EOL equipment can help your data center continue to run smoothly. even if you find that your budget can't cope with expensive upgrades.
Why trust a TPM provider with your EOSL equipment?
Obviously, we think going with third party hardware support is great option in most cases. A contract with a third party maintenance vendor extends the life of your equipment, reduces the potential for frustrating downtime and helps keep you from falling into the expensive upgrade cycle set by OEMs.
Here's how moving your support and maintenance contracts to a third party maintenance provider can save you time, money, and stress. OEM service contracts usually become more expensive as your device nears its EOSL date. This is a way of nudging you to buy their latest and greatest product. Once your device actually does reach its EOSL, OEMs don't provide any more support and maintenance to that product, strong-arming you into an "upgrade." However, third party maintenance vendors can continue to provide support and maintenance for your devices long after their EOSL dates, extending the life of your equipment and improving your ROI. There's no need to wait until your product reaches EOSL to switch. You can start saving money now. For answers to common questions about third party maintenance, check out these FAQs.
Next Steps When Your Hardware Is EOL or EOSL
Wondering about your equipment's EOL and EOSL dates but not sure where to start? Follow these steps to make sure you're doing what's best for your devices.
Determine which products might be nearing their EOL or EOSL (contact us for help).
Research dependable third party maintenance vendors and ask them these questions.
Make sure you understand the details involved in Service Level Agreements.
Work with your provider to determine which option best benefits you.
Breathe easy knowing you'll have expert support long past your equipment's EOL and EOSL dates.
Feel free to contact us for help in determining your equipment's EOL or EOSL, we'd be happy to help!
Talk To Us About Support Options
We want you to consider us an extension of your team, a trusted resource and advisor. Call us today at 855-304-4600 to find out more.