Answers To Your Questions
Service Level Agreement Questions
Our standard SLAs include the 9x5xNBD (next business day)and 7x24x4, but most contracts that we put together are in some way customized to fit our clients' needs.
Check out our service level agreement chart to see your options.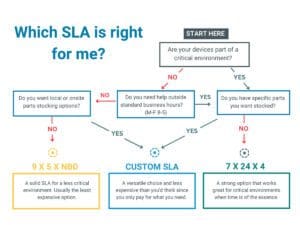 The seemingly standard SLA 7x24x4 can actually be quite ambiguous. It's true that 7 days a week and 24 hours a day are fairly normal definitions of 7x24, but the "4" part of this SLA can be interpreted many different ways based on the provider. Make sure you ask the definition of the "4" when getting quotes. At M Global, our standard "4" means a 4 hour guaranteed response though we typically open a ticket within minutes. We can customize the "4" to fit your needs. Based on your preferences and your budget "4" can mean:
4 hour guaranteed response (we typically open a ticket within minutes)
4 Hour On-Site After We Open a Ticket
4 Hour On-Site After Diagnosis
4 Hour Call to Repair
Keep in mind that the definition of this "4" is directly tied into the parts stocking strategy. If you don't have parts stocked on site or locally, it won't matter how quickly a technician can get out to a device—they won't be able to fix the problem. We work with our clients to build out a contract factoring in all the little details so that can clearly understand what is included in their service.
That depends. Like other parts of the contract, we are flexible and create stocking strategies that fit your needs and budget.
For 7x24 contracts, we start with the most commonly failed parts. We always define for the client the specific parts that we inventory for them and allow them to provide us feedback on any additional parts or sometimes even a scaled back inventory to help cut down support costs.
Unlike some providers, we offer a dedicated stocking inventory which means we do not share parts inventories between clients or other contracts.
We have partnerships with logistics companies to ensure we have stocking locations across the United States and Canada.
In addition to that, we offer dedicated on-site stocking for our 7x24x4 agreements.
Absolutely. We include on-site support for all of our SLAs. Some clients require us to come on-site for every single failure and others only require us to come on-site for the more difficult replacements.
If you have resources in-house that are capable of simple parts replacements and you choose to have us stock inventory at your facility, the speed to recovery can be much faster.
Whatever your preference may be, we can work that in to your contract.
We provide service in most locations across the United States and Canada, and around the world.
SLA options may vary by location so contact us to quickly find the service options in your area. Learn more about our service locations.
SLA Series - What is an SLA?
It depends. We can have field engineers scheduled to be on-site within a couple of hours, but the SLA will provide some guidance as to what our on-site scheduling will look like.
Again, this is another customizable feature.
If you need field engineers to arrive within a certain window, for certain types of events, or possibly for specific environments, we can accommodate with the proper planning while we're setting up your support package.
Immediately.
Our Help Desk typically opens tickets in minutes and the troubleshooting immediately begins.
FAQ Series - Response Times & On-Site Support
Field engineers range from general technicians who have experience with the product set that they'll be touching (servers, networking, storage) to engineers with a very special skill set that has primarily been focused in a specific OEM or OEM product line.
Each OEM provides training courses for the specific platforms and technologies.
Beyond these courses, our engineers have the ability to build out test labs to work with devices that we're supporting today and equipment that we're in the process of offering support for.
All of our engineers go through a character screening and technical qualifying process.
Our SMEs are extremely experienced engineers that have been managing their product lines for a very long time. Our highest level engineers are typically focused on one or two product lines at the maximum.
Below our SMEs are Level 1 and Level 2 engineers who have a broader range of technical knowledge, but also tend to have strengths within specific OEM products.
We have a blend of badged employees and long-term contracted field engineers. Regardless if they're badged or contracted, they are all fully managed and their work is controlled by our high level technical resources at our Help Desk. This process is part of what sets us apart from most other TPMs.
Not only do we provide a very detailed action plan for our field engineers, if any work is required that is not part of the script it is first approved by our SMEs which allows us to prevent poor judgment calls and to keep the quality of services very high.
Also, we allocate a short list of engineers to each client's facility so each customer gets accustomed to the same names and faces; this also allows our engineers to become familiar with each client's data center and environment.
Although our support is only for hardware break/fix services, our engineers can often times help diagnose software issues down to the root cause.
We offer this support as a free supplementary service, but it is provided on a best effort basis with no guarantees to help identify the issue or provide a suggested path of resolution.
Absolutely not.
Only OEMs are legally allowed to distribute proprietary software patches, updates, bundles, etc.
Some OEMs provide free access to specific software packages online, but again, we do not distribute these items.
At times, yes.
It depends on the scope of work and our familiarity with the devices and software that is being installed.
FAQ Series - Software Support
Usually within hours if the inquiry is during business hours.
We let you know right away the details including if the part is available and we can get it to you quickly or if sourcing will be more complicated and take longer.
M Global ships parts within 1-2 business days.
If there is a longer lead time, we'll make sure you know that at the beginning of the process.
Yes. All equipment purchased from M Global has been tested prior to shipping.
All equipment has a minimum of a 24 hour burn-in testing procedure.
Full devices with standard or custom configurations can be tested for 48-72 hours unless otherwise requested.
Hardware purchased through M Global comes with our 1-year Limited Hardware Warranty.
Warranty includes technical support Monday-Friday 9 am-4 pm and next business day parts replacement.
It does not include onsite support, however, enhanced support uplifts are available upon request.
Yes. Our Smart Hands services can help with the installation of parts and devices. We can give you a quote for those services during the ordering process.
Learn More About TPM & M Global Services
We want you to consider us an extension of your team, a trusted resource and advisor. Call us today at 855-304-4600 to find out more.