What is Third Party Maintenance?
Third party maintenance (TPM) is an option for hardware support and service offered through a company separate from the original equipment manufacturer (OEM). These third party maintenance providers have engineers who are typically trained and certified across many hardware types and manufacturers like IBM, Dell, HPE, or Cisco and can even offer support for hardware your OEM deems at its End of Service Life (EOSL).
TPM services are also known as aftermarket hardware support or post warranty support.
Third Party Maintenance companies offer a variety of services including third party hardware support delivered online or over the phone; replacement or repair of server, network, storage or data center hardware; on-site engineering assistance; remote monitoring; operating support; equipment maintenance and more. It's also possible to customize these services allowing for flexible options. Sometimes third party maintenance is also called aftermarket hardware support or post warranty support.
What is the Importance of TPM?
When you buy server, network, storage or data center hardware, the OEM usually offers a warranty. During the warranty period, the OEM is responsible for the maintenance and support of your equipment at no cost to you. When that warranty expires, the OEM will offer contract options to continue service until the manufacturer says the equipment is at its EOSL.
Maintenance and support from the manufacturer can be expensive, and those costs will often continue to rise as your equipment gets older—a subtle way of encouraging you to purchase newer versions. Nearly every piece of hardware will eventually reach an EOSL, when the manufacturer will no longer service the equipment. The high service costs and forced upgrades can be very stressful which is why many turn to third party maintenance.
Why is third party service and support more affordable, customizable and higher-performing than what OEMs can offer? While OEMs are focused on development and sales—they profit when you purchase the newest versions of their hardware, third party maintenance providers are in the business of customer service and therefore are focused on meeting their clients' needs. When you compare OEM vs TPM support, it's easy to see how third party hardware support comes out on top. Not only do TPM providers offer support for devices that manufacturers no longer will (EOSL devices), but TPM contracts are also nearly always more cost effective and flexible.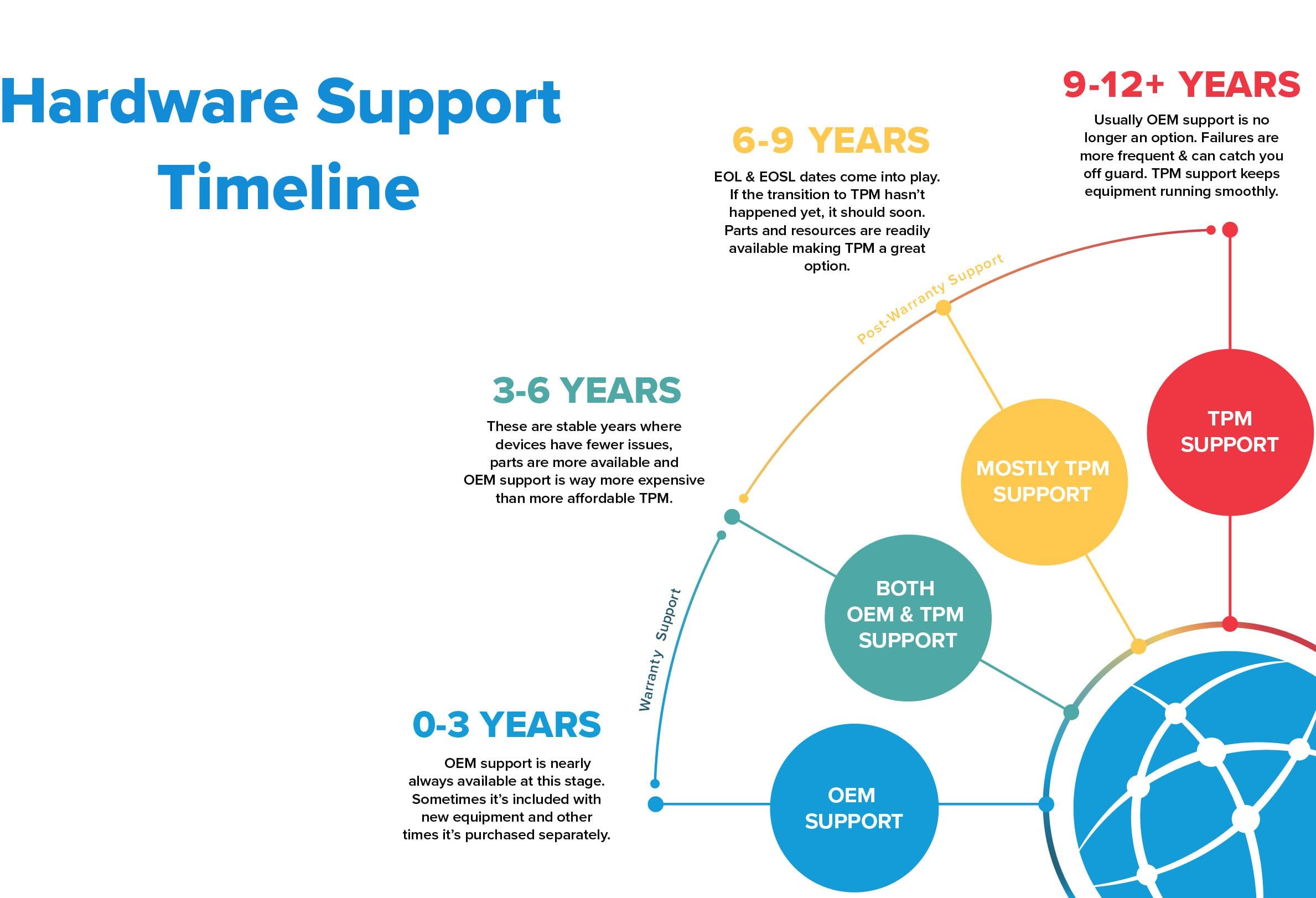 How TPM Services Fit in Your Equipment's Life Cycle
0-3 Years
OEM support is nearly always available at this stage. Sometimes hardware support is included with new equipment and other times it can be purchased separately. When new technology is released, OEM hardware support can be a good idea because TPM providers may have difficulty sourcing parts and providing the level of tech support necessary on new technology. New devices that have similar technology to previous generations could be a candidate for TPM support.
3-6 Years
These are often called the "stable" years. Parts are more available and the technology has become more widely known. Chances are good there haven't been too many issues with your devices and the cost of OEM support is way more expensive than the cost to fix the equipment. Now is a great time to ask yourself, "Are we getting the value out of our high-priced OEM contract?" Third party maintenance support is often a good choice at this stage, especially if you are looking for support options that are more budget friendly.
6-9 Years
EOL and EOSL dates come into play at this stage in the game as OEMs are often starting to make end of service life announcements. If you aren't ready for a hardware refresh yet, you will likely need to start looking at other options for hardware support. At this point, parts are readily available on the secondary market, making it easy for TPM providers to support. Sometimes you can still get OEM support in this time frame, but you will definitely be paying a premium for it.
9-12+ Years
Devices still might be fairly stable but failures are likely happening more often now and could catch you off guard with unexpected downtime. At this point in the equipment life cycle, you probably won't have OEM support as an option. TPM providers are usually able to support older equipment without issue. We've had no problem supporting devices 15-20 years old. One of the snags can be parts availability since it can sometimes be a little more difficult to source parts for devices that old. Make sure you talk to your TPM provider about your parts stocking strategy because it can affect your SLA.
The Definition of Third Party Maintenance
How Can Third Party Maintenance Save You Money?
Choosing third party IT maintenance can help you save money—and free up your budget for strategic IT spending.
TPM providers charge less than most OEMs for service from the start. Clients typically save between 30 and 70 percent on hardware support when they switch.
One of the biggest advantages of TPM is EOSL device support, which keeps your equipment functioning longer, extending the life of your investment.
Increased Return on Investment
OEMs tend to increase service costs as hardware gets older—a subtle way of pushing clients toward an upgrade. TPM vendors are focused on service and support, not sales, so they won't do this.
Because TPM engineers can usually service several devices on a single call, they can help reduce downtimes that would otherwise cost you valuable time and money.
Learn About M Global Services - A Top Third Party Maintenance Provider
When people call us with a hardware maintenance problem, they're stressed and already behind. They need help and they need it yesterday. As an experienced TPM provider, we can help clients solve problems and we become a trusted resource that can reassure, get the job done and offer a much-needed laugh in the process. We understand the importance of fast and thorough solutions, and we never leave our clients hanging.
Give us a call or contact us today to learn more about how we can help you.
We want you to consider us an extension of your team, a trusted resource and advisor. Call us today at 855-304-4600 to find out more.
M Global Support Offerings & Services
Learn More About TPM & M Global Services