The M Global Service Ticket & Escalation Process
How We Resolve Your Hardware Issues
We like to keep things super simple and streamlined to make your service experience as painless as possible. Fast response times, clear communication, and solid follow-through are the foundation of our ticket process. Here's how it goes: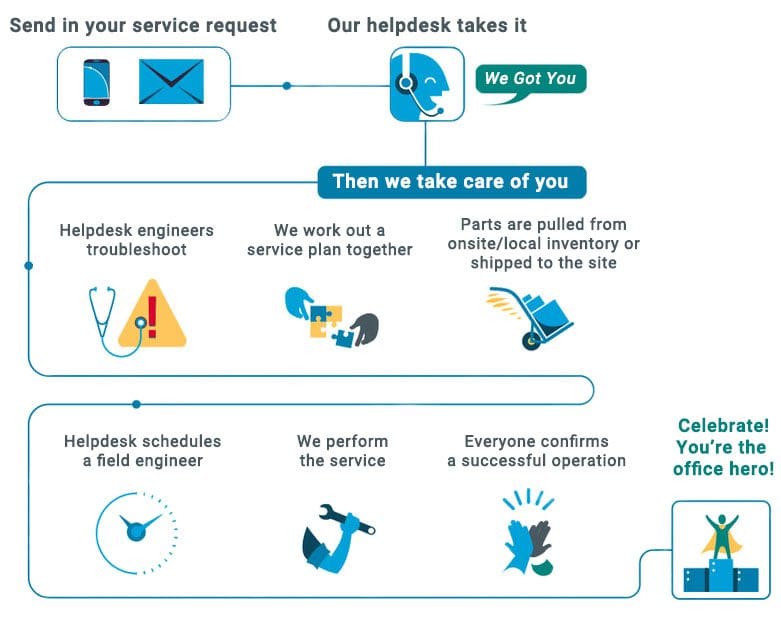 Open a service ticket.
Email is the fastest and most effective way to open a service ticket though you can also do it by phone or customer portal.
You're connected with an M Global help desk engineer who will begin troubleshooting.
A case manager is assigned and will stay on the case with you until your issue is resolved. Internal team members are kept in the loop, and you won't get bounced around explaining your problem over and over.
We take care of the logistics of shipping or retrieving the parts.
When a solution has been agreed upon, we get the part to your location quickly if it's not already stocked in your on-site inventory.
Our help desk schedules a field engineer.
When on-site support is needed, the M Global help desk schedules a field engineer to perform the task.
The issue is resolved, and the service ticket is closed.
Everyone involved confirms the resolution, and then it's time to celebrate!
Want Better Support?
Talk To Us About Third Party Maintenance

M Global Help Desk Tips for Quick Ticket Resolution
Take the first step and prep
A little preparation before opening the ticket can speed up the process. Bonus points if you provide this information when opening your service ticket.
Open your service ticket via email
Our help desk recommends starting with an email to increase ticket resolution momentum. This allows internal team members to be kept in the loop during the ticket process, such as SMEs, managers, logistics, etc. Include the following information to help us get a jump start on troubleshooting:
Customer Name, Phone Number, and Email Address
Site Contact's Name, Number, and Email Address
Site Address:
Contract #:
Model #
Serial #
Description of the problem
Severity Level (Low/Medium/High)
Knowing the details of the situation, even if they don't seem important, can help us get to a quicker diagnosis. Are there troubleshooting steps you've already tried? Is there a relevant history that might be useful (like if this has been an ongoing issue)? Have there been recent environmental changes like construction projects nearby (dust!), upgrades to the system, weather events, or anything else that could affect your equipment? Having this information from the beginning can save precious time and help resolve the issue much faster.
We only hire people we trust.
Our engineers go through a thorough character screening and technical qualifying process.
You will always reach a help desk engineer — never an answering service.
Every customer matters to us and we will always be straightforward and transparent with you.
It makes a big difference when you work with people you can trust. That's why we ensure that our engineers are trained and certified experts. Beyond training courses for specific platforms and devices provided by OEMs, we also have test labs so the engineers can work with devices they are supporting.
We have a blend of high-level subject matter experts (SMEs), Level 1 & 2 engineers and contracted field engineers and all go through our character screening and technical qualifying process. Our SMEs are very experienced engineers who have been managing their product lines for a long time. These high-level resources at our helpdesk manage the work of other engineers including contracted field engineers (FEs). FEs are given a very detailed action plan to follow and any changes must be approved by our SMEs ensuring optimal service throughout the process.
Our Process — From the Initial Request to the Ticket is Closed