Businesses change. Shouldn't your data center support and maintenance coverage change with you? When you're locked into rigid SLAs and support contracts, you could be stuck paying extra for things you don't even need. To get the best coverage, you need a flexible hardware support provider that adapts to you—not the other way around. Check out the SLA chart below to see our most common support options.
M Global Third Party Maintenance
Help Desk Monday - Friday, 8am - 5pm

✔

✔

✔

Help Desk 24/7

✔

✔

Guaranteed Business Hours Response

✔

✔

✔

Guaranteed 4 Hour Response Respond within 4 hours of your request. Most tickets opened in minutes.

✔

✔

✔

Service Ticket Opened Within Minutes

✔

✔

✔

Remote and On-Site Diagnosis

✔

✔

✔

Parts Replacement Scheduled Immediately After Diagnosis

✔

✔

✔

Parts Delivery Next Business Day

✔

✔

✔

Local or On-Site Stocking of Commonly Failed Parts You get to choose to stock on-site or nearby.

✔

✔

Local or On-Site Enhanced Parts Stocking Customize which parts you stock. Choose to stock on-site or nearby.

✔

On-Site Support Next Business Day Part shipped next business day & on-site support day part arrives.

✔

✔

✔

On-Site Support Same Day Important for critical failures.

✔

✔

Re-Routing of Auto Generated Alerts
We can manage these and notify you.

✔

✔

✔

Defective Media Retention (DMR)
We leave all failed drives with you.

✔

✔

✔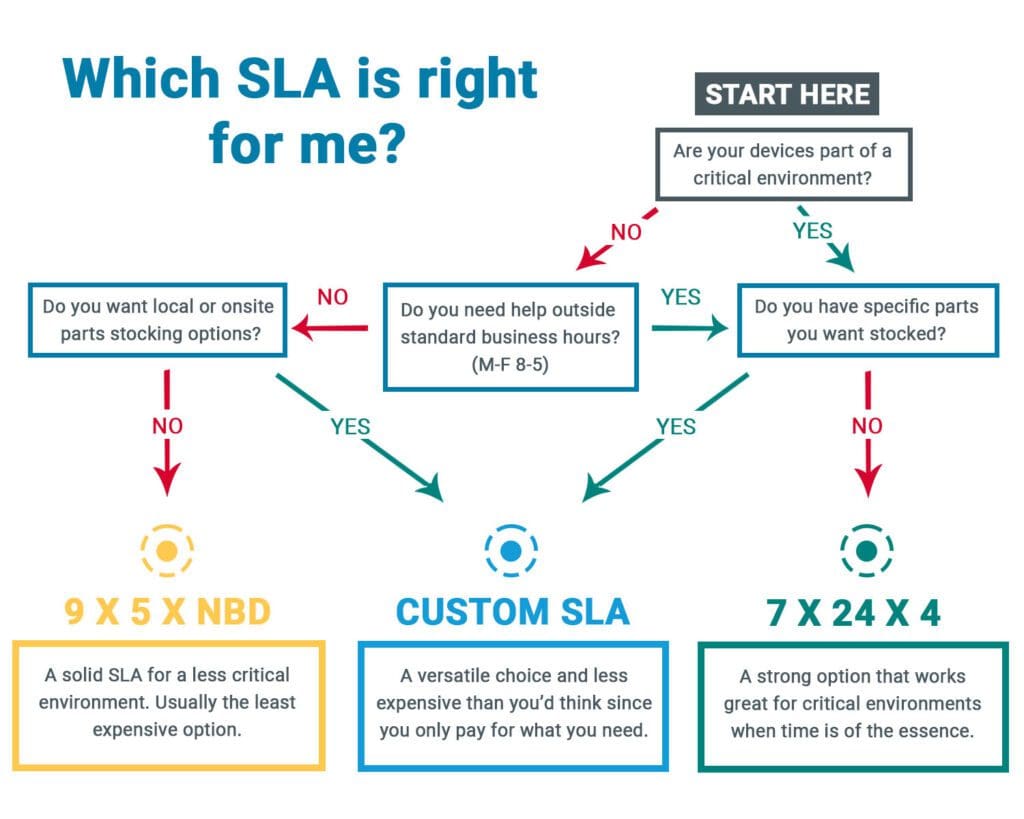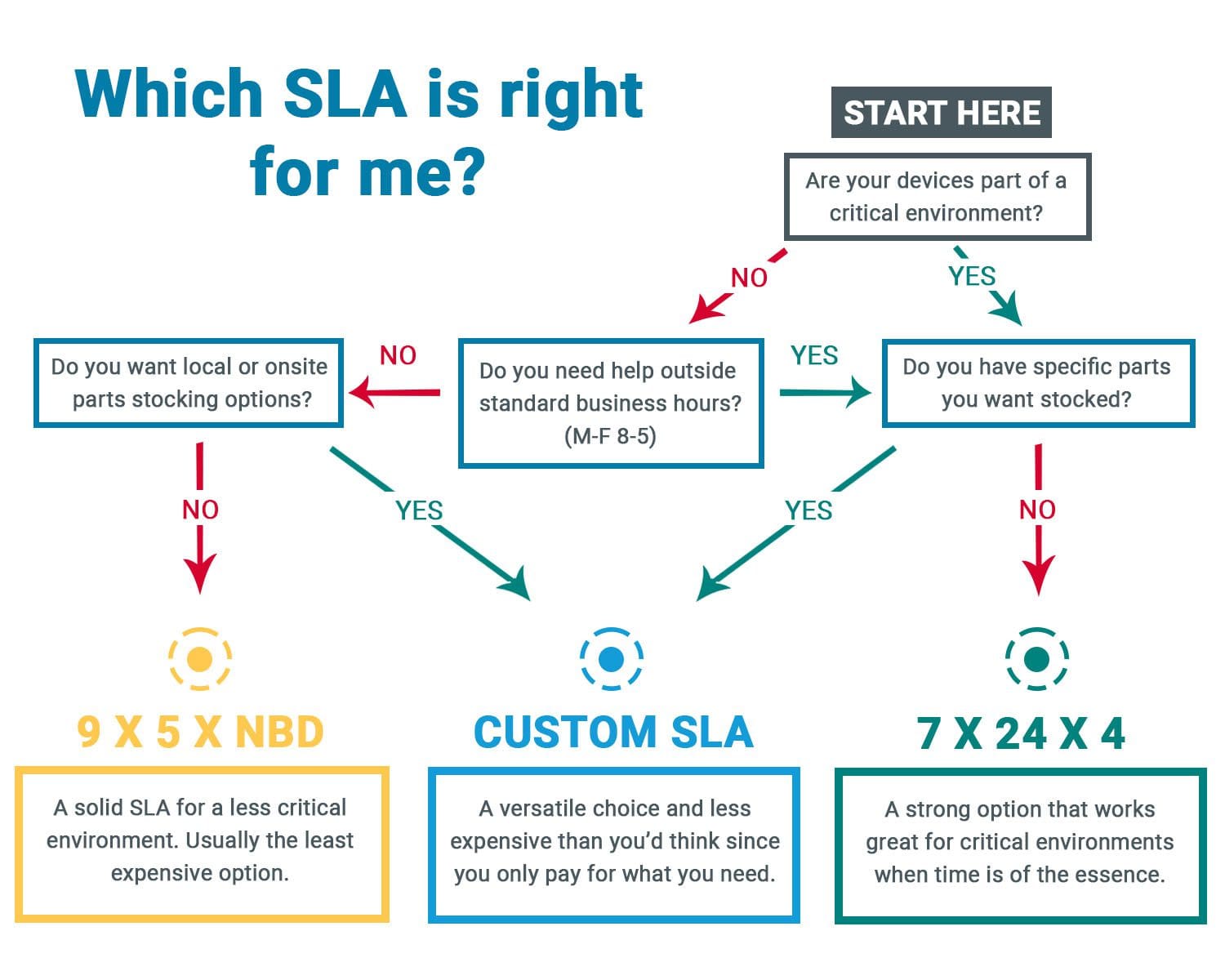 Understanding Your SLA (Service Level Agreement)
It's important to understand what's included in your SLA and ask questions when making decisions about what you'll be getting when you sign a contract. At M Global, we help you navigate all the details so that you can get exactly what you need in your IT hardware maintenance service level agreement.
What's the deal with the "4" in the 7x24x4 SLA?
It's pretty standard for the 7x24x4 SLA to mean 7 days a week and 24 hours a day, but that elusive "4" can have many interpretations and too often isn't clearly defined. In our maintenance SLAs, the "4" means a 4 hour guaranteed response (though we typically open a ticket within minutes). At M Global, we can customize that "4" based on your needs and budget. It can also mean:
4 Hour On-Site After Diagnosis
4 Hour On-Site After We Open a Ticket
4 Hour Call to Repair
It's important to consider your parts stocking strategy when deciding what sort of maintenance SLA you may need. If you don't have parts stocked on-site or locally, it won't matter how quickly a technician can get to your site—they won't be able to fix the problem. We work with our clients to develop a strategy that includes all the facets of an SLA when building a contract for them.
Just like other parts of an M Global contract, your parts stocking strategy can be customized to fit your needs and budget. And because parts stocking is such a critical component in every IT hardware support and maintenance SLA, we set ourselves apart by clearly defining the specific parts that we will inventory. This way you'll know exactly what to expect and can provide feedback on additional parts you may want to have stocked.
We also offer a dedicated stocking inventory which means we do not share parts inventories between clients or other contracts.
Talk to us about support options for your hardware.
SLA Series - What is an SLA?
SLA Series - 9x5xNBD vs 7x24x4
SLA Series - Parts Stocking & Shipping
SLA Series - What's up with the "4"?
SLA Series - Response Times & Coverage Window
What happens when something breaks, such as a critical server or storage array component, and your equipment isn't currently covered by an M Global service contract? Don't worry—we can still help. With our hourly technical consulting services, we can get you up and running again.
You can get access to expert engineers trained across many IT hardware manufacturers, including Dell, IBM, HPE, Cisco, Oracle, Juniper, Brocade, and more. Every customer matters to us and our commitment to customer service shows in all the work we do.
We want you to consider us an extension of your team, a trusted resource and advisor. Call us today at 855-304-4600 to find out more.